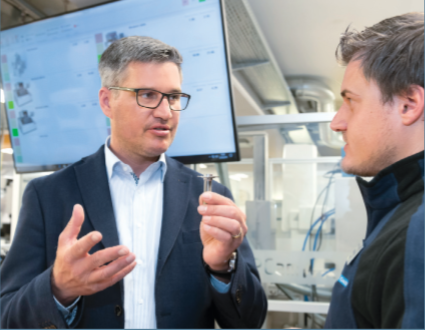 Since 2016 at GEWO Feinmechanik GmbH, a PCam Robot, three MV1200R and one FA20S, a coordinate measuring machine and a cleaning system have been acting very impressively in the erosion area.
The 6-axis robot loads and unloads the individual wire erosion machines with raw and fer parts and clamping elements from a rotary magazine. He very effectively supports the production of single and serial parts.
The automation solution includes order planning, controls the processes and activates the machines. "With the PCam CNC Automation Solution, we can very efficiently produce the components to be manufactured on the Mitsubishi EDM machines, using our ERP system.
Via the plant-wide machine networking, the machines receive the required order data, 3D data as well as the generated NC programs from the CAD / CAM software PCam / Wire ", Stefan Woitzik presents the EDM Automation cell. "In the sense of industry as early as 2013, we were striving for data networking of all machines in our company, so that, for example, faults such as faulty processes or downtimes are recorded and reported immediately. Initially, this was realized via the telephone system and later via a SIP client. "These session initiation protocols are based on Voice over IP. The contents are sent in individual data packages via the Internet or Intranet.