Toolmaking 4.0, an eye spear and augmented reality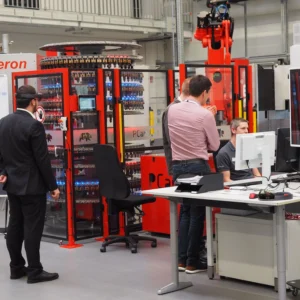 "When we celebrated the inauguration of the last hall in 2011, we never thought that the next groundbreaking would occur six years later," says Hoefer & Sohn Managing Director Dr. Christopher Badock. "At the time, we had short-time work, and the order situation was catastrophic," Badock continues. "We believed that the economy would pick up again. The site on Futuriastrasse was in great demand: a stadium was to be built there, and the local kiebitz had advocates. It was a courageous but necessary step."
New building with lots of space for the future
Half of the acquired area of 30,000 square meters was built. The rest? An option for the future. In the buildings, 1,600 m² were created to redesign mold making and a further 2,000 m² production space for plastic components under clean and clean room conditions. Tool and mold making has moved from Balbiererstraße to Futuriastraße and has brought its machinery up to date with the latest technology.
Augmented Reality: Futuristic manufacturing cell in mold making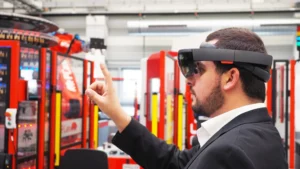 Five machines linked in a robot cell work 24/7 in mold making with the highest accuracy and data consistency. A highlight of the inauguration ceremony: PCam demonstrates with a live demonstration how the production cell is controlled solely with the help of AR glasses, gestures, and speech. The AR glasses combine virtual and real image information. The model still needs to be ready for series production, but PCam sees the future in it.
The eye spear: sample project for the new mainstay medical technology
Christoph Badock: "We see the medical technology division as an important new mainstay. A clean room cell for the Augenspear is currently being put into operation. A medical item used in operations is produced in compliance with the highest hygiene requirements." The second system will follow in October 2019.
The family business, founded in 1876 and now in its fifth generation, is a lasting commitment to its Fürth location. Hoefer & Sohn has been producing displays with touch functions in three clean room cells for a year. In an information market, the guests could get reports from employees at various stations about their work and projects.
September 19th, 2019